FY2021: Charity Concert
Charity Concert Classic 2022
On March 1, 2022, Charity Concert Classic2022 took place at Kioi Hall (Chiyoda-ku, Tokyo).
On the day of the concert, a large audience that had long awaited another installment of the concert gathered at the venue, which was filled with beautiful music conducted by Mr. Gen Ohta and played by flutist Ayako Takagi with the Tokyo Symphony Orchestra. The concert was a success.
We also appreciate the support offered by many through donations. The proceeds and donations from this concert will be allotted for educational support in developing countries.
Going forward, the KDDI Foundation will continue with activities to bring a bright future to children in developing countries.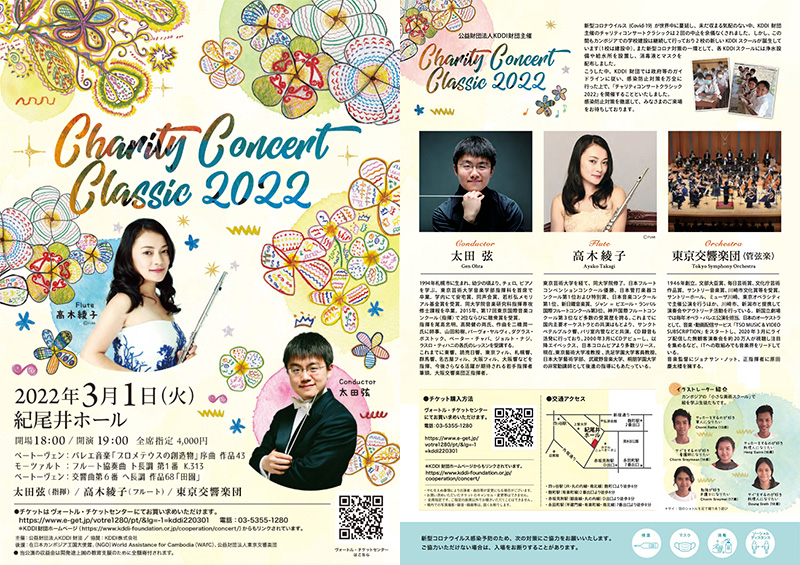 The worldwide spread of COVID-19 has forced the KDDI Foundation to cancel its Charity Concert Classic for two years.
During this period, we continued to construct schools in Cambodia—we successfully established two new KDDI Schools.
As part of our COVID-19 countermeasures, we have installed a water purification facility and a water station at each KDDI School and we have also distributed antiseptics and surgical masks.
The KDDI Foundation decided to hold Charity Concert Classic 2022 while thoroughly implementing COVID-19 precautions by observing guidelines issued by the government and other organizations.
Concert Information
Date and Time
Tuesday, March 1, 2022. Admissions start at 6:00 PM and doors close at 7:00 PM
* Visitors are required to take their temperatures, and so we ask all visitors to arrive early.
Program
- Beethoven: The Creatures of Prometheus, Op. 43: Overture
- Mozart: The Flute Concerto No. 1 in G major, K. 313
- Beethoven: The Symphony No. 6 in F major, Op. 68, Pastorale
Ticket Price
¥4,000 (reserved seating)
(The audience is required to sit in every other seat to maintain social distance.)
Ticket release
November 15, 2021 10:00 - February 22, 2022 23:59